ROLE
UI/UX Re - Design
Custom Development

VERTICALS
Fashion and Apparel
ROLE
UI/UX Re - Design
Custom Development

VERTICALS
Fashion and Apparel
Brand Overview
Casio Official Shops is recognized and officialized by Casio Tokio, as the only agent of the brand in Colombia; it belongs to the Startur Group and it´s dedicated to the sale and repair of their renowned watches and calculators. They are considered as a pioneer in the Colombian market with the best technical support department, unique in Latin America.
This company also sells their products in a multi-brand platform, tagg.co, but since their vision is to improve the digital channels they own to bring their clients the best possible technology, they choose Innovate to upgrade their website and reinforce the sales through that channel.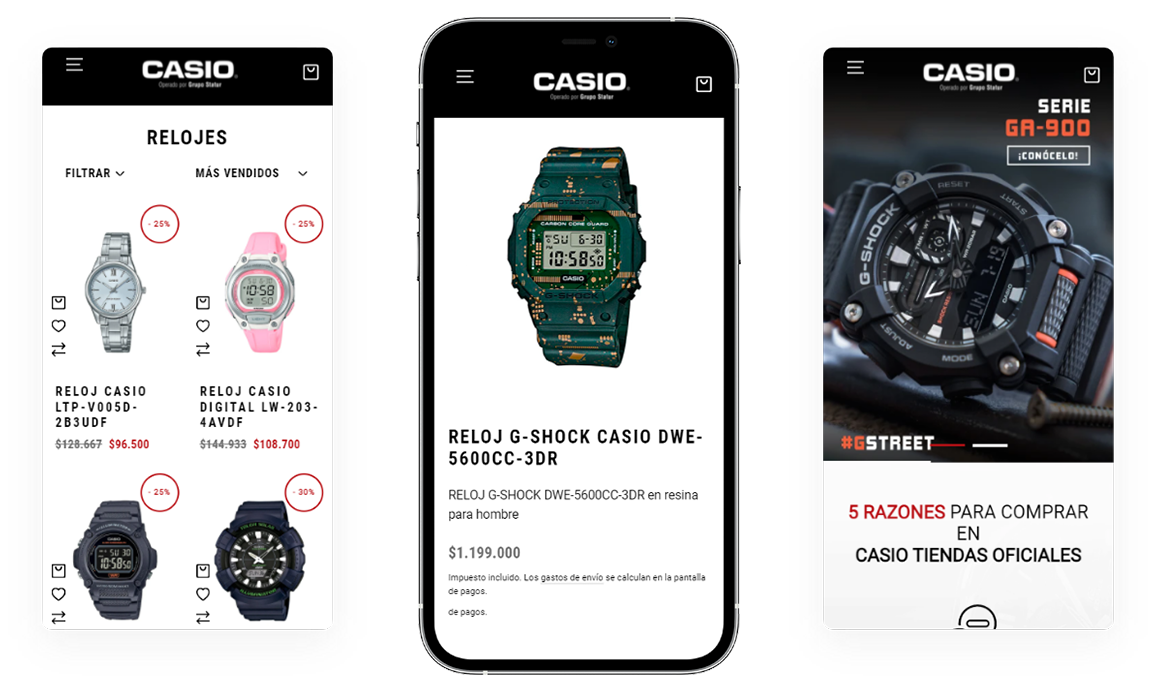 Requirements
We start this project by migrating their website to Shopify, besides the re-designing and custom development to adjust the new site to their requirements.
This company has multiple physical stores, so one of the main needs they had was to integrate their inventory and ERP to the website, to have a cleaner control over their sales and to bring a better buying experience for the clients.
To make the site quick, clean, responsive and visually neat is our intention, therefore our back-end team focused on the development and implementation of different kinds of apps that bring us, and the client, closer to the goal.
Solution
Innovate developed a shopify store featuring visual and user-friendly functionality.
Enhancing the brand value, from the design, by highlighting the product categories (watches and calculators).
Whereas in the Mobile version, emphasis was placed on the UX/UI.